Introducing L'Oréal's New Revitalift Retinol Pressed Night Cream! Retinol use in your 20's and 30's is so important for preventing early signs of aging. That's why I think the Retinol Pressed Night Cream, is the perfect first retinol to begin with!
I'm soon turning 30 and recently started using a different Retinoid to prevent acne, but I had drying and irritation when I began. Now that my acne is treated, my skin is now really dry and using the Revitalift Retinol Pressed Night Cream has provided the moisture that I need along with the many other benefits I listed below.
This post is a paid collaboration and may contain affiliate links, which means I'll receive a commission if you purchase through my links, at no extra cost to you. Please read full disclosure for more information.
Reduce wrinkles, even tone and 24 hr hydration

It is non-greasy, absorbs quickly and does not clog pores

It is L'Oreal's 1st fresh-pressed jar is hygienic, too it's easy to dose

Allergy tested, and Dermatologist tested for safety

Suitable for all skin types 
Retinol (Vitamin A): the anti-aging ingredient known to fight key signs of aging such as wrinkles and uneven skin texture.
Niacinamide (Vitamin B3): is an essential nutrient that helps strengthen skin's natural protective barrier and brighten skin overall, for a healthier looking complexion
12% soothing complex of Panthenol, Glycerin, Hyaluronic acid and nourishing emollients: used to balance powerful Retinol and leave skin feeling deeply moisturized.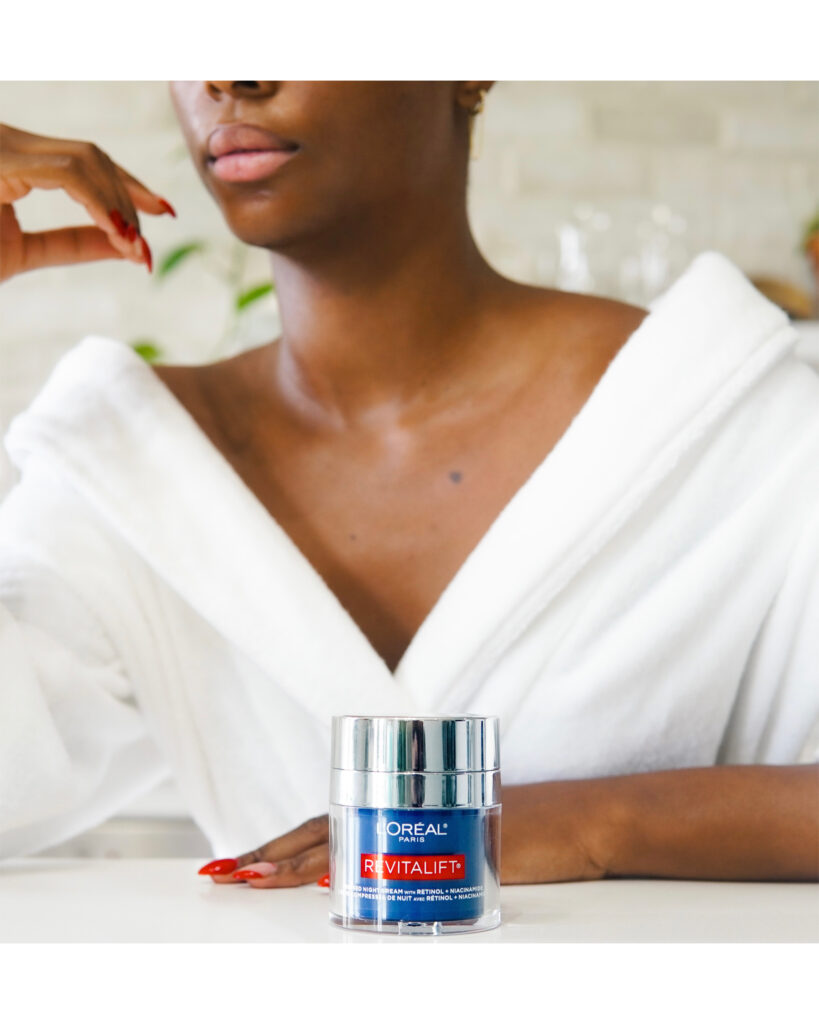 Retinol can be strong, so it's best to stick to a simple routine when you use them for the first time. However, L'Oreal makes it so easy for those who would love to introduce Retinol into their night routine, as discussed below.
⠀
1.  The hygienic pressed jar makes it easy to dose 1 pea-sized pump 2 nights per week on your face, under your eyes, and crow's feet, being sure to avoid eyelid.
⠀
2. The combination of both Retinol and Niacinamide fights to visibly reduce wrinkles, even skin tone and deeply moisturize. However, it is perfect for those with sensitive skin who want the benefit of retinol without drying or irritation. Overnight, your skin feels deeply moisturized, softer, and smoother!
⠀
3. Over time, you can apply the pressed night cream every other night or nightly as tolerated.
⠀



Do you use Retinol in your night time routine?