I'm so happy that October is here, and fall has officially begun. Since the pandemic, I've started taking my skincare regimen very seriously. Taking care of my skin has become my favorite beauty ritual. Now that we have to wear a mask nearly everywhere we go, taking care of your skin is very important to avoid breakouts. Though I already have a daily skin care regimen for my combination skin, I added a few other products that I'm enjoying. Therefore, I had to share these 6 skincare beauty products to try this fall for sensitive skin.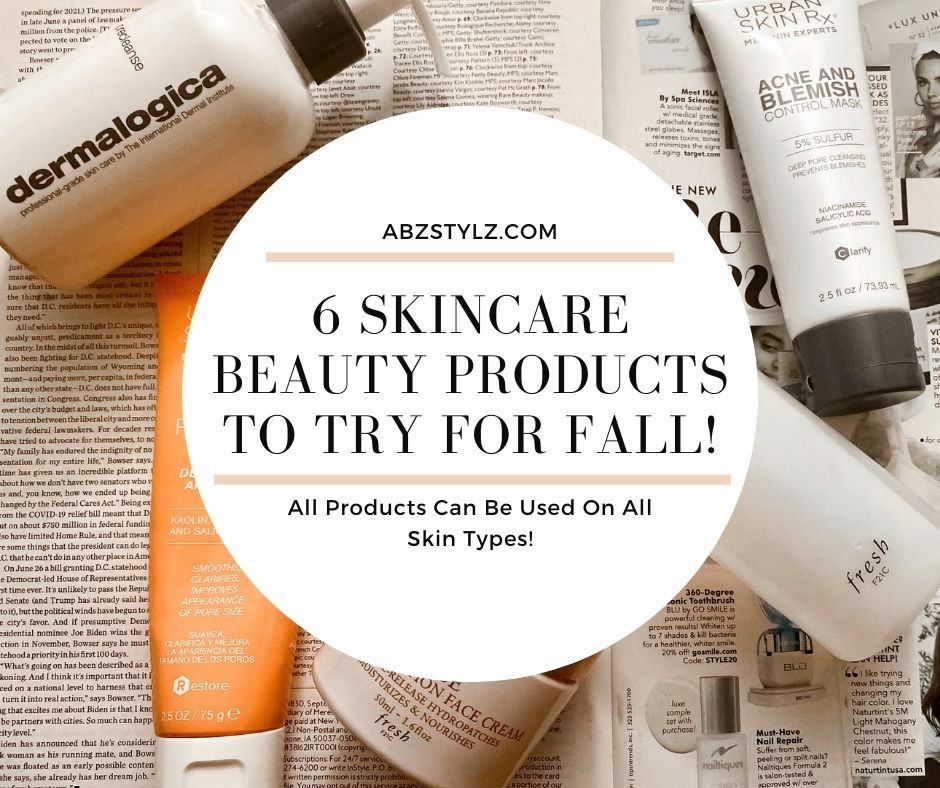 This post may contain affiliate links, which means I'll receive a commission if you purchase through my links, at no extra cost to you. Please read full disclosure for more information.
I recently heard about the Dermalogica Precleanse Cleansing Oil, and initially thought it would be unnecessary for me to purchase even though the reviews were great. However, after doing more research I realized it had a few benefits for me to give it a try.
If you wear makeup quite often like I do, this is a must have! I use it at night only, and knowing how to apply it I think makes a big difference.
Before wetting my face, I dispense the oil into my dry hands. I massage over my dry face, and my makeup dissolves. I then wet my hands and continue massaging until it turns into a milky solution. I rinse with warm water, and then use Dermalogica's Microfoliant Exfoliator right after.
Even when I don't wear makeup, I love that it removes my sunscreen and other environmental pollution from my skin. Living in New York City, there are so many pollutants in the air that by the end of day my skin has so much build up. Nothing feels better after you wash your face, and you feel like it's actually clean! Without clogging my pores, it nourishes and gently exfoliates my skin.
Some may be turned off by how strong it smells. However, if that's not a deal breaker definitely go for it!
I love a product that is "a two in one". The rose floral is not just a toner, but also a setting spray. Once it starts to get colder, using this toner will be great to add additional hydrating benefits when you apply to your blending beauty sponge.
The toner is alcohol free, so it doesn't strip and irritate my skin. The option to spray or dispense on to a cotton pad is also a bonus.
Yes, I like options 🙂
For me, I love spritzing it onto my face and then gently patting my face with a cotton pad to dry. My skin feels so soft after using it. I know that it's not striping the moisture out of my skin.
It's great for all skin types! The main ingredient, Rose Water, helps sooth and even your skin tone. Most of my skincare beauty products for fall has rose water.
Another great tip is to use it as a mask primer. After cleansing, I mist the toner over my face before applying any of my favorite masks. This is actually great to do before and after. Toning before will make sure all the dirt the cleanser may have missed is removed, and your skin is prepped to absorb the mask. By toning after, it helps to lock in all the benefits of the mask used, and preps your skin to absorb all the moisture when you apply your moisturizer.
My Favorite Masks: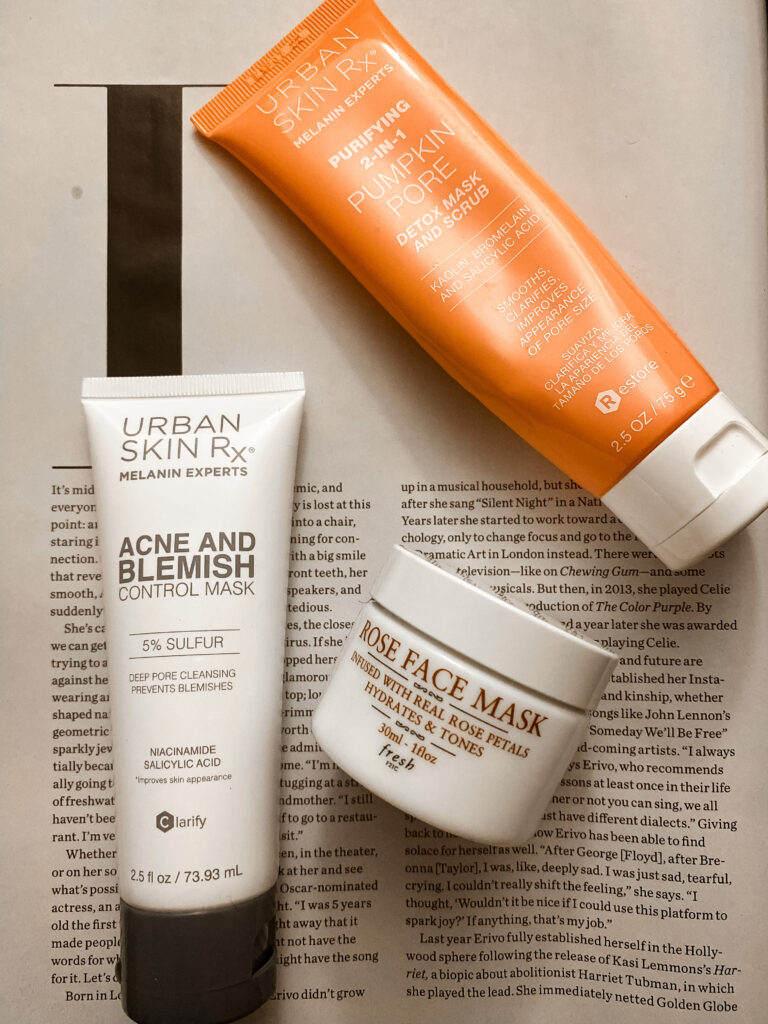 My favorite mask!
Fresh gifted me the mini size, and I loved it so much that I purchased the standard size once it was nearly finished.
The Rose Face mask can be used everyday. Yes that's right…everyday!
It's the perfect mask to pamper yourself after a long day. With rosewater, aloe vera gel and cucumber extract, the mask instantly hydrates and soothes your skin. It's a great mask to use in between your more detoxifying masks. With so many natural ingredients, it should be beneficial for all skin types.
This will be a favorite for me during the fall and winter season, to ensure my skin stays moisturized and supple.
I'm pretty sure if you're a beauty junkie, you would have heard about Urban Skin RX Pumpkin pore detox mask and scrub. The pleasant pumpkin scent and self warming feel against your skin is the perfect pick me up in Fall.
It might be alarming for some when you feel the mask heating up on your face. However, I was able to get used to it after using it after a few months. Anytime I want to unclog my pores and shed my dull skin, I've used the Pumpkin Mask and Scrub. My pores have significantly gotten smaller since using it.
If your skin is sensitive like mine, you shouldn't use it more than twice a week and leave it on for no more than 10 minutes.
Whenever I get pesky breakouts right before "that time of the month", I use the Urban Acne and Blemish Control Mask. It has helped tremendously to fight my acne and prevent breakouts in the future. It's also a great spot treatment!
What I really love about Urban RX, is that their skincare products are made to help all skin tones. They have made it their duty to especially address melanin women's skin care issues. As a black woman, I'm prone to having an uneven skin tone. In a short time, the mask has helped to even out my skin tone and improve the appearance of dark spots from old acne scars. It's a must have skincare beauty product!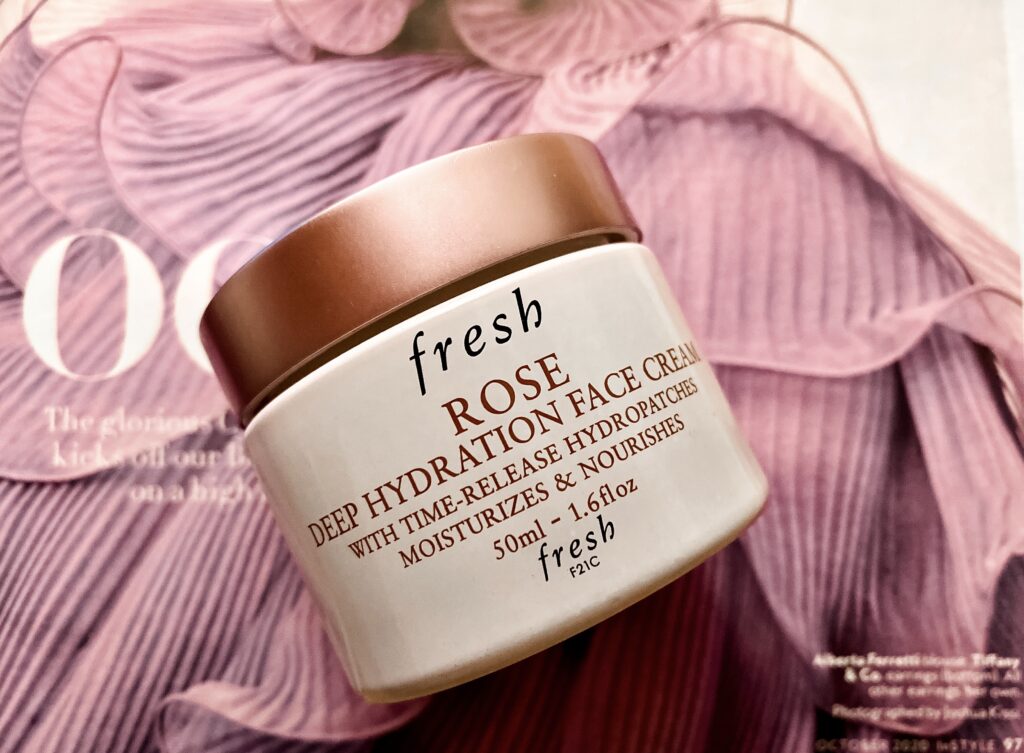 Moisturizer
Fresh gifted the mini size of the Rose & Hyaluronic Acid Deep Hydration Moisturizer, and loved it so much that I bought the standard size.
With combination skin, I used to be scared of using a moisturizer often because I was afraid it would make my skin look overly shiny. However, it is very important to moisturize your skin. It prevents your skin from breaking out, and dullness.
As I put the deep hydrating moisturizer on my skin, I can feel my skin retaining the moisture. My skin feels so supple, and it really does not lose its plumpness until I'm ready to cleanse at the end of day or next morning.
I really wish this wasn't a limited edition because it is such a great moisturizer!  If you want a moisturizer for Fall will give your skin a dewy look, hydrate and moisturizes your skin, definitely give it a try.
             Shop The Post

Do you have any skincare beauty products for fall you are loving? I would love to hear down below!