I think like a lot of women, I have had a love hate relationship with my skin. However, with trial and error I have come to discover some great beauty essential products for combination skin that have worked for me. I also have pretty sensitive skin, so it is imperative that I find products that are gentle on my skin and still effective!
Disclaimer: This post may contain affiliate links, which means I'll receive a commission if you purchase through my links, at no extra cost to you. Please read full disclosure for more information.
Morning Beauty Regimen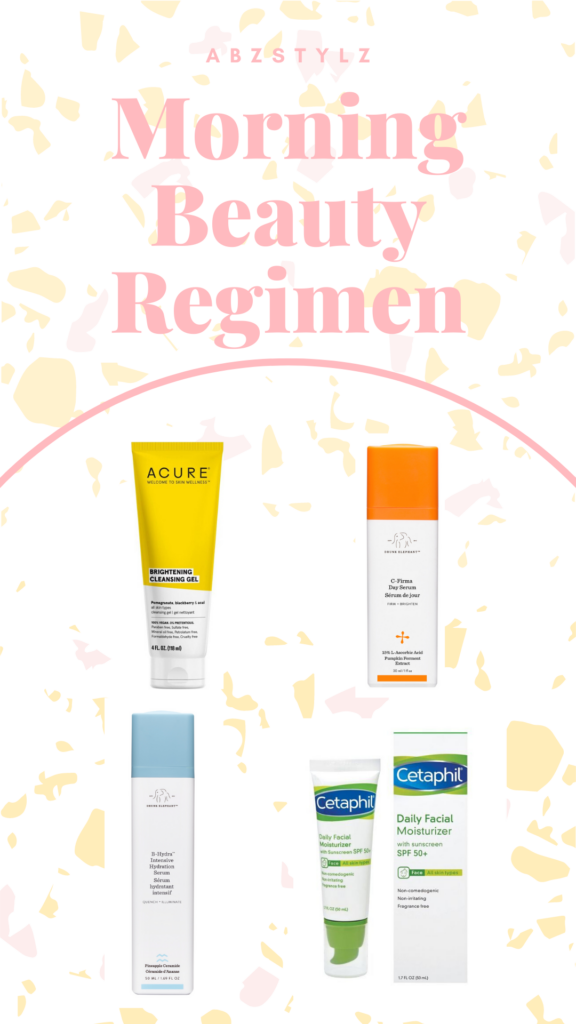 I particularly love to have two face cleansers. I think your skin has different needs at the beginning of the day and at night. In the morning, I prefer a cleanser that is super light and detoxifying to start my day. So I use Acure Brightening Cleansing Gel. I love this cleanser because it is vegan, cruelty and paraben- free. Due to my sensitive skin, I need a product that can give me a deep clean without stripping my natural skin moisture, and it does just that.
After cleansing my face, I follow up with a Rose Petal alcohol free toner from Witch Hazel. I use this toner day and night to reduce redness and even my skin tone. I've used quite a few toners, but I have always come back to Witch Hazel due to how tight my pores appear and the natural glow it gave me.
I then apply the Drunk Elephant C-Firma, which is a vitamin C day serum. It is loaded with antioxidants, nutrients, and fruit enzymes to firm and brighten the skin's appearance. Since using this Vitamin C serum, I have seen my skin become more even and my pimple scars fade quickly. The scent may bother others, but I honestly do not mind it. I cannot smell it once I mix it with the B-hydra intensive hydration serum.
This is also a light weight serum, which hydrates and locks in the moisture to your skin to improve the skins texture and tone. Compared to how sticky the C-Firma is, I love that the B-hydra has a watery texture so when mixed together it spreads easily.
When wearing a serum, especially Vitamin C, you would need a SPF moisturizer. So I finish off with Cetaphil's Facial Moisturizer SPF 50, which does not irritate my skin and clog my pores. I also love the fact that a little goes a long way!
Shop the Skincare Products

Night-Time Beauty Regimen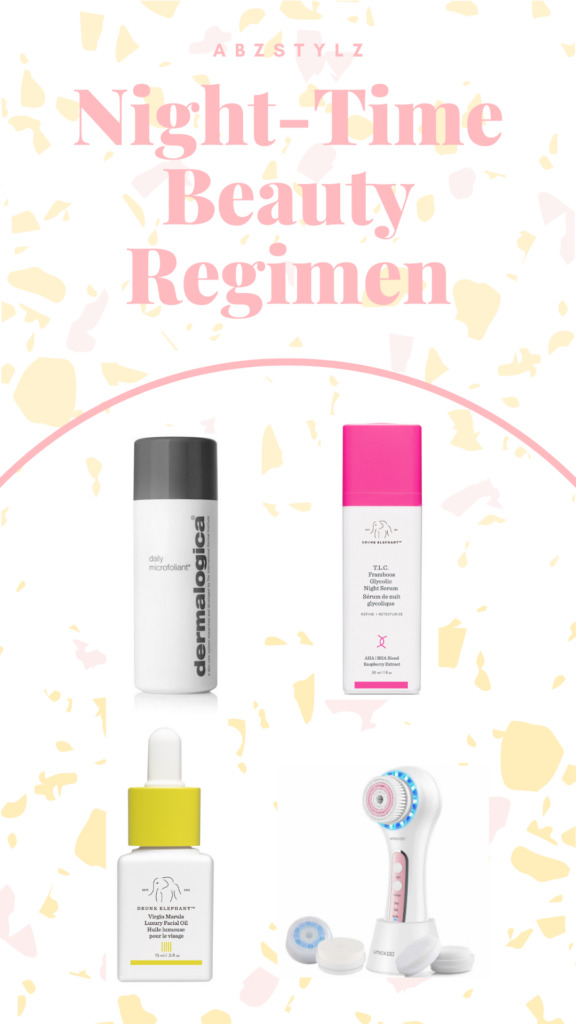 At night I use Dermologica Daily Microfoliant Exfoliator, which is great to use after wearing makeup all day or for me after shooting my looks. With combination skin it can be tricky because my T- zone is usually very oily in the summer time, while in winter of course it may become dry. However, both cleansers are great for all skin types so I can use them year round.
I love how the Daily Microfoliant Exfoliator gives me a deep clean without drying out my skin, even when I use it with my facial cleansing brush. And I should also mention it is awesome for sensitive skin!
After applying my toner, I mix Drunk Elephant's T.L.C Famboos Glycolic Resurfacing Night Serum and Virgin Marula Antioxidant Face Oil to complete my night time skincare routine.
The night serum has a blend of: glycolic plus (for youthful complexion) ; tartaric (enhancing skins natural glow); citric acids (unclogs blocked pores and balances skin PH); salicylic (to fight acne) ; and lactic (for hydration and sensitivity).
If the glycolic dosage is very high in a product I tend to get a reaction. I love the fact that it is a low dosage, and is ideal for those who are just starting to use serums.
The Virgin Marula oil is the perfect combo with the serum because it hydrates and nurtures your skin for the whole night. It's doesn't give you the undesirable "oily" look, but instead you wake up with the perfect glow!
Shop the Skincare Products