Are you planning to move in to your new home or looking to re-decorate your walls at home? Desenio provide design inspiration for your home with help from their gallery walls. I was able to create gallery walls from their posters for my living room, bedroom, and office area that fit our style and space. I did not realize how intimidating it would be to place frames around my space in a way that is visually appealing. However, I really love how attainable Desenio makes it, and have to show you how I easily create the perfect gallery wall for my home.  They frequently add new items to their range, in order to keep up with the latest interior and Scandinavian designs.
Desenio is passionate about interior and Scandinavian design. Their goal is to make stylish wall art affordable to everyone. Founded in 2010, you will find Scandinavia's widest range of posters along with frames, hangers, picture ledges and clips. Desenio frequently add new items to their range, in order to keep up to date on the latest interior and Scandinavian designs. They have something to fit every room and style of interior.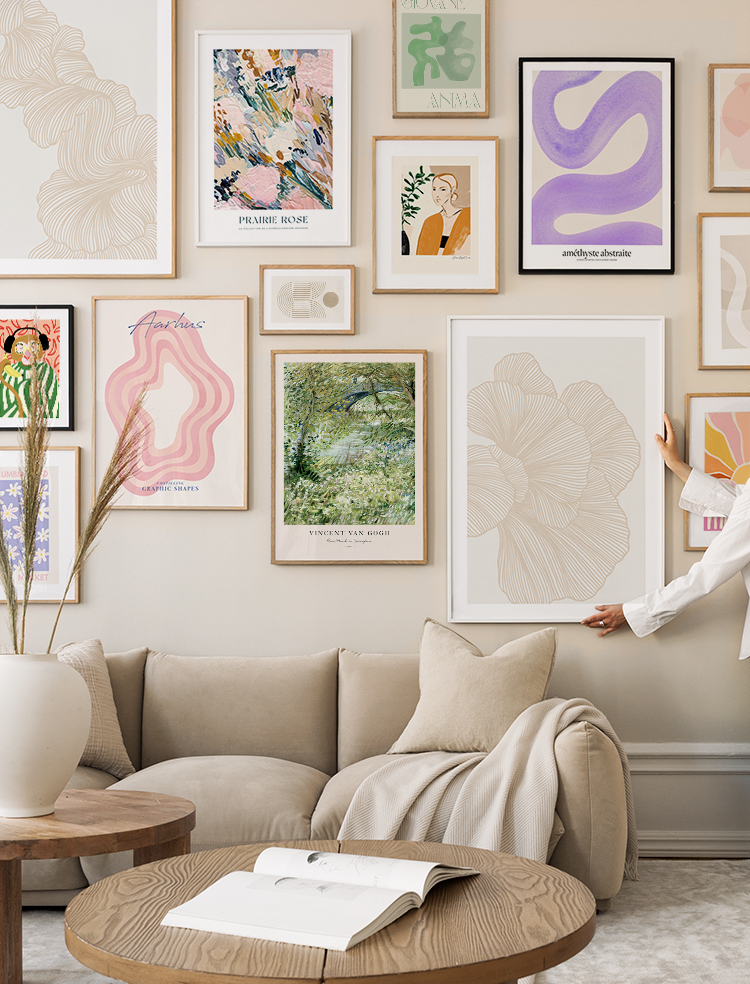 Desenio provides an inspiration section that allows you to view various rooms and styles to find the gallery perfect for you. The inspiration section has helped me with combining different posters. They regularly add new gallery walls, so you can find inspiration for seasonal occasions such as Christmas and Thanksgiving, and according to the latest design trends. For instance, I recently decorated my office area and got inspiration from the Studio Hollywood collection. I got one photo from the iconic art collection starring Sophia Richie, and created my own gallery wall around it. If you love fashion and old Hollywood sophistication, you should definitely give this collection a look!
Check out how I styled the "Sunny Cadillac Poster" with other posters down below!
Gallery Wall Templates & Tool
Desenio offers a compilation of gallery wall templates, including full measurements, which can fit small or large walls. These are great starting points when creating a gallery wall for any room. They also offer a step-by-step tool to create your own personalized gallery wall for your home! This tool helps you find designs and frames that match each other. This helped me find posters that matched perfectly together.
If you would like to shop the affordable wall art, use the code ABIODUN for 35 % off prints (personalized and canvases excluded) from Desenio until May 18th!