After being in the house for the past few months, my husband and I are planning quick weekend getaways for the summer. Indoor activities are still limited, so we look forward to lounging at the beach and site seeing. Our trips are short, so my goal is to not overpack. I make sure to bring only essentials and things I'll wear. If you are planning a quick trip, your weekend getaway packing list should be as follows.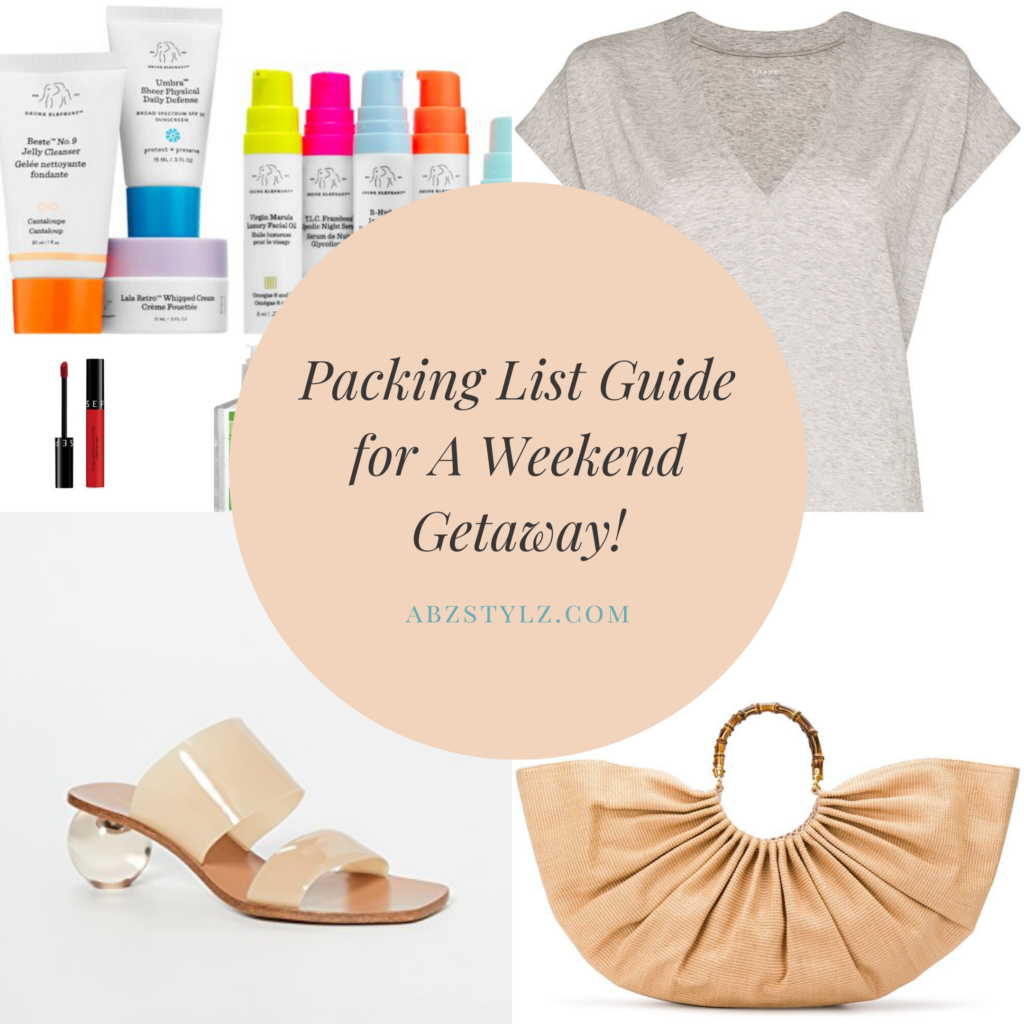 Clothing and Accessories
T-Shirts
Shorts
Sandals
Dress
Pajamas
Bathing Suits
Bamboo Tote Bag
Shades
Fanny Pack
These will be the main pieces that you can start with. I suggest having 2 basic and 1 graphic T-Shirt. You can easily throw it on with a blue or black shorts. Also, having a light cotton material t-shirt will be best for the heat. I love having at least one night to dress up a bit. So I'll pack a dress for date night or family dinner.
For my accessories, I'll pack jewelry that will easily go with all my looks. If you're site seeing, you can wear a fanny pack. For the beach or pool, a bamboo tote bag is perfect to hold your towel and change of clothes.

Makeup
Tinted Moisturizer
Lipstick
Mascara
Powder
Concealer
Liquid Liner
Blush
To avoid spending so much time getting ready, I keep my makeup looks simple. Nothing beats a natural look during the day or night.

Toiletries
Deodorant
Toothpaste
Toothbrush
Moisturizer
Face wash
Shampoo
Conditioner
Detangler Brush
A great tip for toiletries is to get travel sizes to avoid them taking up too much space. If you happen to leave one behind, you don't need to worry!
(If you missed my essential beauty products that I use. Click the link here)

Medicine and Protective Equipment
Tylenol
Hand Santizer
Mask
Gloves
Wipes
We want to have fun, but its important we are safe as well. Having your mask and hand sanitizer easily accessible to you is necessary.
Let me know in the comments what you think of my "Packing List Guide for a Weekend Getaway". Also, feel free to share!
Be Safe!